I'm kinda cheating today, pals. You know my goal is to write something every day in the month of March, and in keeping with BlogHer's theme of risk, I'm limiting myself to only 15 minutes of written spewage. But because I'm in not in a good place today, I'm afraid anything new I were to write would be laden with negativity and bitterness. Just to give you a snippet of why my panties are in a twist today: my son insists on waking before the sun, and today he took it upon himself to create art work with glitter paint sans my supervision. My hardwood floors look like Ke$ha and Studio 54 had a baby.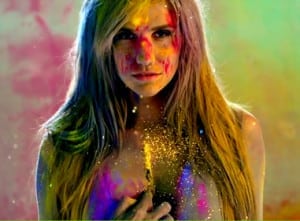 On that sour note, I've been drafting ideas for this post for a few days, and that's why it may be cheating. So, sue me.
You've either been living under a rock or are a real adult if you haven't heard the news that Kim Kardashian and Kanye West, AKA: Kimye, are expecting a baby. Reportedly, the baby is a girl which means there is no way in hell that poor kid won't be all kids of effed up  have a first name that starts with the letter "K." I personally think Kim seeks out men whose first names start with a K as to create the perfect Mommy-Daddy-Baby K Trifecta, but that's an allegation for another time.
The Kardashian Klan has exhausted a lot of the K-names since Mama Kris has been popping out kids since the late 70′s, so it may prove a bit difficult to come up with something fitting for Kimye's spawn. That's why I've decided to lend a hand.
Kitty. Because we wouldn't even know Kim existed if she hadn't made a special movie featuring her kitty…
Kash. Because that's what Kim was paid for making her special movie.
Kristmas. Kim's middle name is Noel so this is just an educated guess on my part. And yes, I realize that the fact that I even know this makes me pathetic.
Kato Kaelin. What a blast from the past, eh?!
Klondike. An attractive mix of chocolate and vanilla, not to mention one of the countless ways Mr. West insults women in his "music."
Kate. No, that would never work. Too simple. Too classy.
Kryptonite. Much like the sunlight to his constantly sunglassed eyes, I look for fatherly responsibilities and explosive infant poops to repulse Kanye. I hope I'm wrong for the sake of little Kryptonite, but I'm not.
Kustody. This doesn't really merit an explanation, does it?!
Time's up! If you have brain cells to waste, feel free to leave additional name suggestions in the comments!