Did you wake up this morning hoping a new pal would Overshare and make you laugh and maybe wince a little? Excellent! We aim to please over here at WhenCrazyMeetsExhaustion, so feast your eyes upon your new friend Jill (aka Ms. PC). She wasn't always the sophisticated, well-mannered, air-brushed lady you know her as today. In her teenage years, she went through a period of… oversharing. Lucky for us, she's back to her old ways. At least for today…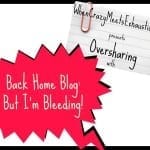 After spending my childhood being embarrassed by everything imaginable, one day I discovered that everyone is embarrassed constantly. I found this extremely liberating and just ran with it.
In high school I was a "late bloomer," as parents like to say. God, is there any phrase more mortifying? But it's accurate, I guess. I didn't start puberty until I was almost 16. When I finally got my period, it was like an angry volcano that had been buried under the surface for too many years.
Perfect. So now I had a love of oversharing plus something to overshare. I passed my free time regaling my friends with embarrassing tales of feminine protection gone awry. And they loved it. But I still shouldn't have assumed that everyone would appreciate my openness.
One day in Participatory Government (stupid class), the teacher made me move seats because I was talking too much (shocker). As soon as I moved seats, I asked her if I could go to the bathroom. She stared me down, trying to figure out if… this was some kind of trick, I guess? She was kind of dumb. Anyway, she said no.
That's when I blurted out "But, I'm bleeding!"
The whole, entire class gasped in unison. I mean, God people, that dramatic, really?
She informed me that the correct thing to say was that I was having feminine lady issue problem times or something. I wanted to argue with her those phrases were just euphemisms and I shouldn't be made ashamed of my bodily functions but, at this point, time was a factor.
So I just said "Ok, can I go?" And she continued to lecture me. "Ok, can I go?" I repeated. And finally my freedom was granted.
I'd like to think I learned my lesson after that but I have vague memories of traumatizing my now best friend Rachel the first week of college by talking about tampons or something.
I've gotten better since then though, definitely. I mean, except for this story. And most everything else on my blog.
Jill is a comedy writer in New York who never got over her adolescent obsession with sitcoms. In fact, she's currently in production on her first independent web pilot (about which she alternately complains and gushes). <— (Editor's note: she should totally cast me. Thanks.) Her blog is supposedly about her adventures in living with her new husband and divorced dad, but really about whatever comes into her head.
If you're feelin' the itch to Overshare, submit your story to WhenCrazyMeetsExhaustion [at] gmail [dot] com.